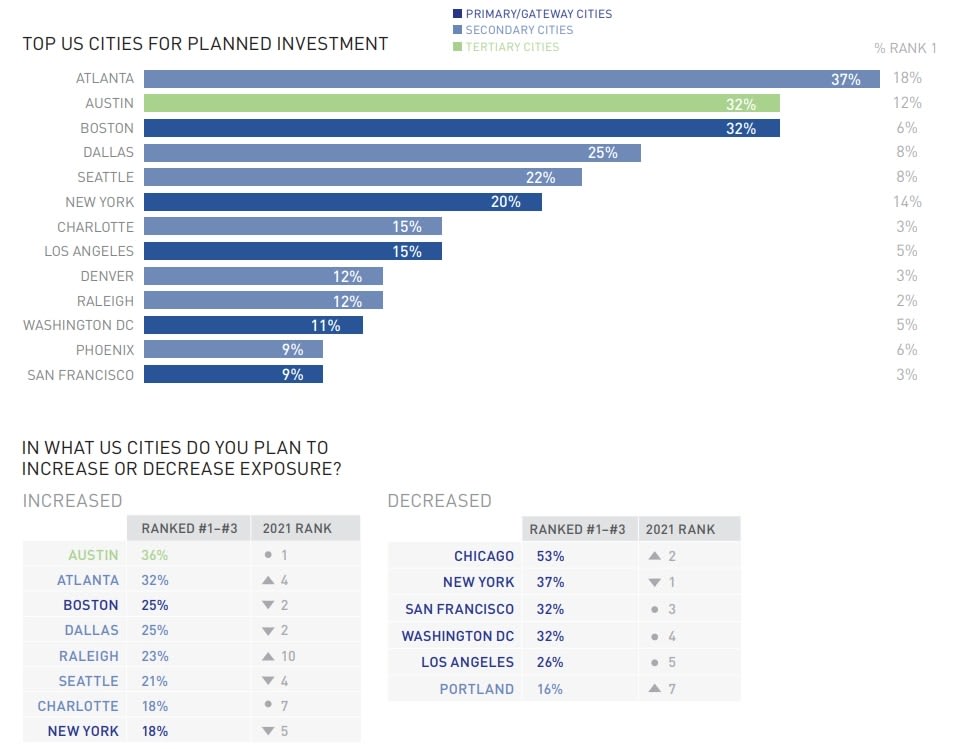 Courtesy of AFIRE.
Global real estate
investor
interest in Atlanta and other secondary U.S. cities is hotter than ever, according to a recent survey from the Association for International Real Estate (AFIRE).
Survey participants, who include major institutional investors from around the world, ranked Atlanta as their top U.S. city for investment, and on a
global basis
, Atlanta ranked second behind Austin, Texas. London was the only non-U.S. city in the top five global ranking.
Austin and Atlanta also topped the rankings for planned investment increases, followed by Boston, Dallas and Raleigh, N.C.
The pandemic has brought about a significant shift in real estate investment strategies. Primary or gateway cities in the U.S., like New York and Los Angeles, are no longer the preferred targets for capital deployment. Instead, secondary cities like Atlanta and tertiary cities like Charlotte now dominate the AFIRE rankings.
Among other findings in the survey, multifamily is overwhelmingly the top choice among property types for investment, followed by life sciences, industrial and self-storage. Environmental, social and governmental (ESG) concerns are expected to be "very important" factors in investment decision-making over the next five years, according to 81% of respondents. As a point of comparison, ESG was expected to be an important factor by 69% of last year's respondents.
"With the 2022 AFIRE International Investor Survey Report, we now have a clearer picture on the longer-term impact of the pandemic on real estate investment, with altered cultural attitudes and sustained strength in investment in secondary and tertiary U.S. cities, led by Austin, Atlanta, Boston and Dallas," said AFIRE CEO Gunnar Branson said in a press release. "Our AFIRE colleagues have responded to a dynamic environment with optimism and innovation to adapt for the better and report an overall positive sentiment towards investor activity and revenue growth over the coming year."